Are you considering purchasing travel insurance for your next road trip? Read on to learn what types of travel insurance make sense for your next road trip. Then find the best policy for your trip.
If you've read other posts on this site, you'll know that I think road trips are a wonderful way to explore California as a family. Drives are a great way to take in the sights and make lasting memories. And if you're like me, you make sure that you find the best places to stay and the best things to do along the way.
But one thing I've learned the hard way – over and over again – is that no matter how carefully you plan your trip, unexpected things happen. Over the past few years, we've made tortured decisions about whether or not to cancel trips due to fires and floods. We've been snowed in at Lake Tahoe for days waiting for highways to reopen. And we've canceled some pretty awesome tours thanks to Norovirus.
It was during that last experience, while miserably trying to figure out if there were any pre-paid tickets that we could salvage, that I finally decided to figure out road trip travel insurance. I'm sharing my findings with you here.
Things are always changing! Make sure to double-check for schedule changes and closures before your next road trip.
We use affiliate links to keep our blog free for you to read and to pay for the occasional pizza night. If you buy through a link on our page, we might receive a small commission at no cost to you.
Road Trip Travel Insurance Quick Search
Compare instant quotes from our three preferred providers:
Why purchase road trip travel insurance?
If you're on this site, you probably know that a road trip can be an exciting adventure for the whole family. But have you thought about what you would do if something unexpected happens? The decisions that come after a storm prediction, a kid's sudden illness, or an unexpected road closure can be torturous! I'm not proud of some thoughts that have crossed my mind while weighing what is best for the family against the thought of throwing hundreds of dollars in non-refundable tickets and lodging out the window.
And that's where travel insurance comes in. It's a safety net that gives you peace of mind while you're on the road. Road trip pitfalls aren't something fun to think about during the planning stages. But it always helps to be prepared.
The following are our top three reasons for purchasing travel insurance for our upcoming road trips:
1. Road Trip Travel Insurance covers pre-paid costs due to cancellation.
We've had to face tough cancellation decisions on several of our planned road trips. I like to plan trips well in advance. It helps me find the best deals and a wide range of lodging options. But that often leaves months for the unexpected to occur.
One of the biggest planning challenges for us over the years has been California's "wildfire season." After years of drought, California wildfires have been burning hotter and earlier each year. And destinations dependent on tourist revenue are not happy to return pre-payments for visitors who no longer feel safe making the journey.
We've lost multiple deposits when we choose not to go somewhere due to unhealthy air quality or the fear of being on an unfamiliar mountain road out of signal should fire conditions change.
For this reason, I'm a fan of purchasing travel insurance plans with a "cancel for any reason" option. These policies allow for reimbursement of prepaid expenses when you cancel your trip up to two days before your departure. Even without a disaster declaration or evacuation order.
2. Road Trip Travel insurance can cover costs incurred due to travel delays and road closures.
One Christmas, our family decided to book a cabin in Tahoe. The week before we left, we hoped for some snow, and we were delighted to watch it start falling. And falling. And falling. The result was record-breaking amount of snow. All roads leading in (and out) of town were closed for days beyond our planned stay. We were stuck.
The Airbnb owner allowed us to stay once it was clear that the next renters wouldn't be able to make it. His "generosity" came with a hefty price tag. The owner charged a holiday rate, even though we had no options. All roads were impassable in and out of our neighborhood. We couldn't even leave the driveway!
Had we purchased travel insurance, this hefty expense could have been covered.
3. Road Trip Travel insurance can cover medical costs such as out-of-network doctors.
Though we've had some surprise illnesses on the road that have required us to cancel prepaid tours, we've been lucky enough to avoid this scenario so far. Kknock on wood.
When you're on the road, you might think to check where the nearest hospital is for emergencies. But did you think about how much it might cost if the healthcare provided is out of network?
Tavel insurance can provide peace of mind about any potential healthcare needs on the road.
What type of travel insurance do I need for a road trip?
It can be intimidating to unpack the different types of coverage available to travelers. Knowing your coverage needs before comparing policies makes it easier to choose the best plan for your family.
The following insurance categories are a good way to start prioritizing your coverage needs.
Trip Insurance
This is a general term referring to insurance that protects your financial investment if you can't continue the trip as planned. Trip or travel insurance protects prepaid expenses like non-refundable accommodations, tickets, and prepaid tours. Usually, trip insurance only covers activities that take place 50 miles or more away from your home.
Trip Interruption
This type of insurance coverage reimburses you for expenses incurred if you need to return home early due to reasons covered by your policy.
Trip Cancellation
There are many reasons you may have to unexpectedly cancel your trip. Most trip insurance policies cover the full costs of trip cancellation as long as the reason is covered by the policy.
Some plans offer add-ons that allow trip cancellation coverage "for any reason."
Travel Medical Insurance
This is a general term for coverage of medical emergencies and related expenses.
Travel medical insurance is highly recommended when traveling to the US from another country. The United States has notoriously high healthcare costs. This can be a shock to those who need to seek treatment while vacationing here.
It is also recommended if you are a domestic traveler going to a destination with hospitals out of your healthcare network.
Planning adventure activities during your trip? Know the activities covered by your insurance policy. Some plans require an optional Adventure Sport policy addition.
Emergency Medical Evacuation
Though not fun to think about, this insurance covers your transportation to a nearby hospital in case of an emergency. When you are stable enough to return home, it may also help cover the cost of your return trip.
How to choose the best Travel Insurance plan for your road trip?
The number one reason it took me so long to start purchasing travel insurance for our trips is that I got cross-eyed trying to pick out the right policy. Even knowing where to start can be overwhelming.
To save money without sacrificing coverage, compare quotes from multiple insurance companies and weigh the benefits against the costs. With the right plan, you can enjoy peace of mind and a worry-free family road trip at a price you're comfortable with.
Luckily, technology keeps making this process easier and more convenient than ever before. The following companies have made it super simple to compare policies, choose the coverage that suits your needs, and quickly buy everything you need online. They operate like search engines. You input basic information about your trip and compare preferred policies that fit your criteria.
Example: The Trip to Mammoth Lakes That Never Happened
Before comparing different travel insurance sites, I decided to shop for a policy that would have reimbursed us for canceling our planned trip to Mammoth Lakes last year.
As our trip approached, a storm moved in creating hazardous road conditions. We pictured potential flooding and navigating unfamiliar mountain roads in a storm. Honestly, I don't even like driving through a normal highway in a downpour so we were pretty nervous.
We decided that the drive wasn't worth the risk. However, without an official road closure or evacuation, we had to eat the costs of our Airbnb. Plus, as it turned out, some refundable tickets were only truly refundable if you submitted the request in person. Ugh.
All in all, we paid $890.41 for a trip we never took. With that in mind, I shopped around to compare policies with a "cancel for any reason" policy addition using Visitors Coverage, TravelInsurance.com, and Insubuy. This is what I found:
User Ratings and Reviews of Policies
Quick and Easy Quotes
Easy Policy Comparison
Straightforward Cost Breakdown of Coverage Options
Budget-Friendly Policies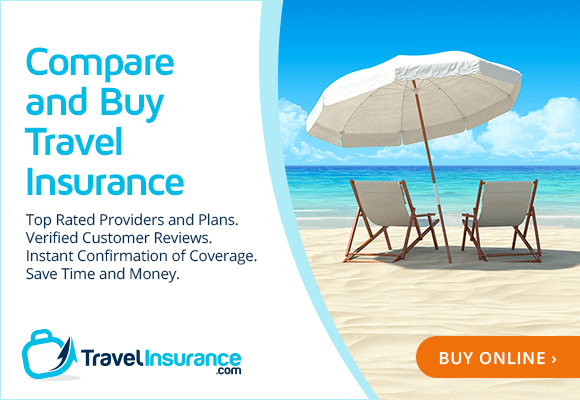 Of all the places I looked for Travel Insurance, TravelInsurance.com had the easiest and most user-friendly shopping experience. Simply enter basic information about your trip and your family and receive quotes from a wide range of insurers. I like that it lets you enter the Total Trip Cost. Most searches require you to allocate costs per person.
Once you get to your search results, TravelInsurance.com makes it easy to compare policy results with more filter options than other sites. On this site, I found 12 insurance plans that fit my basic criteria. Another major perk of TravelInsurance.com is that once you click on "Buy Now" for any given policy, you'll be able to easily see the cost of additional coverage options.
As for the policies and prices themselves, several of the best results were aligned with Visitors Coverage. The Worldwide Trip Protector offered the greatest cost-benefit ratio based on the Mammoth trip example above. The policy cost $141.36 ($88 before the "cancel for any reason" option) for a 5-day trip with 4 people. Should you cancel the trip up to two days before your departure date, the policy reimburses 75% of the costs. For the Mammoth trip, we would have been reimbursed $667.81 for a savings of $526 after accounting for the cost of the policy.
In addition to the ease of finding a policy that was within a reasonable budget and served my needs, I liked that TravelInsurance.com features thousands of verified customer reviews. With the horror stories out there about filing insurance claims, reviews are helpful and provide an additional layer of confidence in your purchase.
Compare Rates and Buy Today
Visitors Coverage
Quick and Easy Quotes
Easy Policy Comparison
Budget-Friendly Policy Options
Like TravelInsurance.com, Visitors Coverage has a simple user experience. It is easy to sort through and compare a range of policy options. If you find one that suits your comfort level and budget, you can buy the policy on the site in minutes.
I found the interface to be very user-friendly. After putting in basic information about our trip and our family, the site returns a list of policies to compare.
After filtering for a "cancel for any reason" option, I could quickly see that there were 14 insurance plans with the potential to fit my needs. Though Visitors Coverage offered a few more options that fit my search than TravelInsurance.com, the best value option was the same: Worldwide Trip Protector. The quoted costs and certificate benefits were the same on both sites.
The only thing I didn't like about the Visitors Coverage search experience is that you have to repeatedly type in basic family information to see the total quoted cost for each policy with additional coverage options included. Not a deal breaker, but it did get tedious after several times.
Compare Rates and Buy Today
Great policy options and support for travelers to the United States from another country.
Quick and Easy Quotes
Easy Policy Comparison
Insubuy is a great option if you're traveling to the United States from another country. Visitors from other countries are its largest audience. That comes as no surprise given that the idea for Insubuy came from the founder's personal experience with a healthcare emergency while a family member was visiting from another country.
Insubuy policies are well suited to covering problems that might arise during a visit to the United States, like a doctor's visit – or hospital stay – within our costly and complicated healthcare system.
Like TravelInsurance.com, Insubuy has an easy online shopping experience. Compare plans from multiple insurers, get instant quotes, and make your purchase instantly online.
For my domestic search, I found five plans which offered the "cancel for any reason" coverage I was looking for. The Travel LX plan best suited our needs. The total cost for a 5-day trip with additional coverage was $220.38 ($146.92 without this option). Had we purchased this option for our Mammoth trip, we would have saved $447.43.
Compare Rates and Buy Today
Get the Most Out of Your Road Trip Travel Insurance
Before you purchase travel insurance for your next road trip adventure, make sure to do the following:
Read the Certificate Wording
Always read the fine print! Each of the above services allows you to read the insurance policy certificate wording before you make your purchase. It's not fun reading, but the details here can make a big difference when it comes to your travel insurance benefits.
Know which expenses qualify for reimbursement, the timeline during which expenses are eligible for reimbursement, and what proof and receipts the company requires. Know all the details before your trip to avoid surprises, or potential claim problems, down the road.
Keep your receipts
To claim trip costs, you'll need to prove how much you paid for anything that needs reimbursement. It's helpful to keep all of your trip records together in case they are needed.
Familiarize yourself with healthcare providers in your destination.
I have a brilliant dear friend who is a surgeon. She drove me a bit nuts planning her very practical babymoon because access to a hospital in her network was the top priority. And while I may have rolled my eyes a time or two, I understand her cause for concern.
Researching hospital locations is somewhere near the bottom of trip planning fun, but it's best to do it early when all is calm and hypothetical. Knowing if you are covered for healthcare visits on your trip helps you choose the best coverage before you go.
Don't delay buying your policy
Some policy coverage options require purchase within 14 days of your first covered deposit. You'll find this in the Certificate Wording. If you want coverage for cancellations and things that might happen before your trip's start date, buying insurance should be one of your earliest travel purchases.
Don't delay in filing a claim
You'll find the details on filing a claim in the Certificate Wording. Many policies require the policyholder to file a claim within a specified amount of time. Know what's required and by when before your trip.
Adventure with Peace of Mind
The peace of mind that comes from knowing you are covered in the event of an emergency, loss, or unexpected event is priceless.
Though researching plans can seem overwhelming at first, each of the services above makes finding and purchasing the right travel insurance easier than ever before. If you need help selecting a plan that meets your needs while staying within your budget, TravelInsurance.com, Visitors Coverage, and Insubuy are great sites to simplify your search.
So get ready to hit the open road secure in the knowledge that you're ready for anything. Purchase your road trip travel insurance policy today so that you can move on to confidently planning the fun stuff tomorrow!
Road Trip Planning Basics
Compare car rental deals to find the best price with Discover Cars. All fees and taxes are included in your quote.
Booking.com is our first – and often last – stop for finding great deals throughout the Golden State.
Easily compare and buy travel insurance with TravelInsurance.com, our go-to site for travel coverage.
Road Trip Travel Insurance FAQs
Enjoy your next adventure! And check out more of our road trip favorites:
Not ready to buy your road trip travel insurance just yet?
Save this post for later and subscribe to get more ideas on family-friendly west coast adventures right in your inbox.